Decorative Wire Mesh For
Space Dividers
& Displays
Defining Space
Space planning and controlling traffic flow with interior wire mesh space dividers.
Wire mesh space dividers are the perfect solution for designs where separation does not demand seclusion. There are many reasons to partition a space: room definition, ambiance, privacy, and more. Banker's wire mesh offers the unique ability to establish distinct zones within an open area without the need to completely close them off from their surroundings. With patterns ranging from fully opaque to over 85% open, wire mesh space dividers can be as obstructing or as transparent as the designer requires. This can help provide a sense of intimacy in open rooms like restaurants and cafes.
Using wire mesh for displays is equally useful for defining an area of focus for retail products. With the versatility of wire mesh, you can create subtle backdrops that put the focus on the featured display piece or create bold designs that will accentuate and enhance the items on display. Whether you choose simple or ornate patterns, the texture, depth, and light interaction of wire mesh will draw the attention of anyone who sees it.
Cut the Room With Style! – Wire Mesh Space Dividers
The reflective metal mesh used in architectural interior design helps accentuate your organic materials, such as wood and countertops in your interior design. The highly faceted surface of the wire mesh both absorbs and reflects the colors of its surroundings, adding texture and depth to the striking design. In addition, the transparency of the wire mesh allows you to create the sense of a wall while allowing visibility through the material.
Design With Intention
Interior designers are more than just decorators who add furnishings, fabrics, cabinets, and carpets. Instead, interior designers include planning how space will be used and installing architectural details. Woven wire mesh helps define traffic and areas working with an open space. In addition to reflecting the light in the room, the material's transparency allows you to see through the material while still defining the boundaries of the space.
The architectural wire mesh provides a semi-transparent covering to allow you to see through to the other side of the space while allowing light to pass through. You can also select a tighter woven design to add a light-reflecting texture to your décor.
Banker Wire's broad selection of wire mesh makes it an excellent choice for cabinetry and furniture. Unique designs and varying degrees of opacity add visual interest to a project while allowing complete control over visibility. With the addition of secondary finishes, your wire mesh can be further tailored to coordinate with your aesthetic with Antique, Bright, and Satin Decorative Plating finishes, as well as many shades of Anodized Aluminum and Powder Coating.
Banker Wire's line of Flexible Wire Mesh patterns provides expanded creative freedom for designers and architects with a material as adaptable as its name. This mesh's exceptional nature allows for uninterrupted coverage expanses where panelized systems fall short. With the Banker Wire Loop mounting system, Flexible mesh can be used to create curved spaces to match their interior design, hang mesh to make temporary room dividers, as well as other possibilities. The Flexible Mesh product line brings Banker Wire's famous versatility, quality, and expertise to the table, satisfying the most creative architects' vision and meeting the most demanding performance specifications.
Our metal meshes can be made of aluminum, stainless steel, and copper. Once created, they can be treated with an option of multiple finishes to be adapted to any project. For example, the finishes of the architectural mesh can be natural, blasted, satin, painted, anodized or lacquered, among others.
We offer tailor-made products of high quality with personalized service for our clients all over the world. Flexible wire mesh can be produced at larger, one-piece lengths to be installed on any interior size.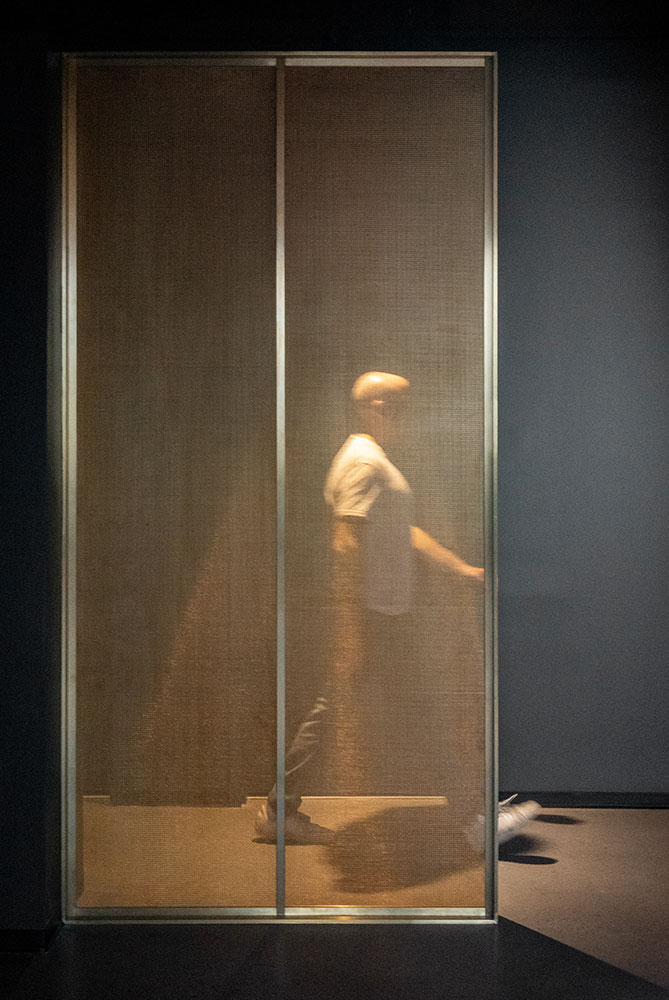 Wire Mesh Space Dividers – Wow Factor!
A high-end interior designer listens to a client's vision and translates that into a one-of-a-kind look where every aspect is made to create the perfect end product. For example, one of the ways to add a luxurious feel to a custom project is to add the unique feel of architectural woven wire mesh as a finishing touch.
Luxury interior design gives that lasting first impression that customers will talk about and remember. The ability to expertly mix materials based on color and texture is a hallmark of luxury interior design. Banker Wire woven mesh comes in various styles, textures, and finishes to complete the look you are designing for.
Custom pieces, including touches of Banker Wire, will give a sense of sophistication, elegance, and detail to elevate your design. The proper selection of finishing materials and refined décor will enhance your piece's "wow factor ." In addition, the one-of-a-kind look of woven wire mesh integrated with your interior design will enhance the luxury experience.