What is Welded Wire Mesh?
Welded wire mesh (sometimes called welded wire fabric) is a metal mesh constructed with perpendicular wires that fuse together at their intersections using a resistance welding process. The resulting weld points secure the wires in a fixed grid that holds its shape. The lack of movement between wires helps to create a sturdy and durable material that exceeds expectations.
So what makes us different? Banker Wire has been in the business of wire mesh for over 125 years. Today, we continue to manufacture reliable mesh products that prove to suit any number of applications. Professionals in many industries have relied on our welded wire mesh in industrial, agricultural, architectural, and other settings to create infill panels, machine guards, security cages, and so much more. To provide each customer with the exact product they need, we make all our wire mesh to order. Whether you choose from our thousands of standard specifications or take advantage of our countless customization options, Banker Wire has the right welded wire mesh for you.
Banker Wire's selection of wire mesh products is extensive, and every specification is customizable. We make all orders on demand, designed and manufactured to meet your exact specifications. View our standard products below.
Want some help? Our friendly and knowledgeable sales team is happy to answer your questions, help you narrow down the right mesh, or start a quote for your next order.
How to Specify Welded Wire Mesh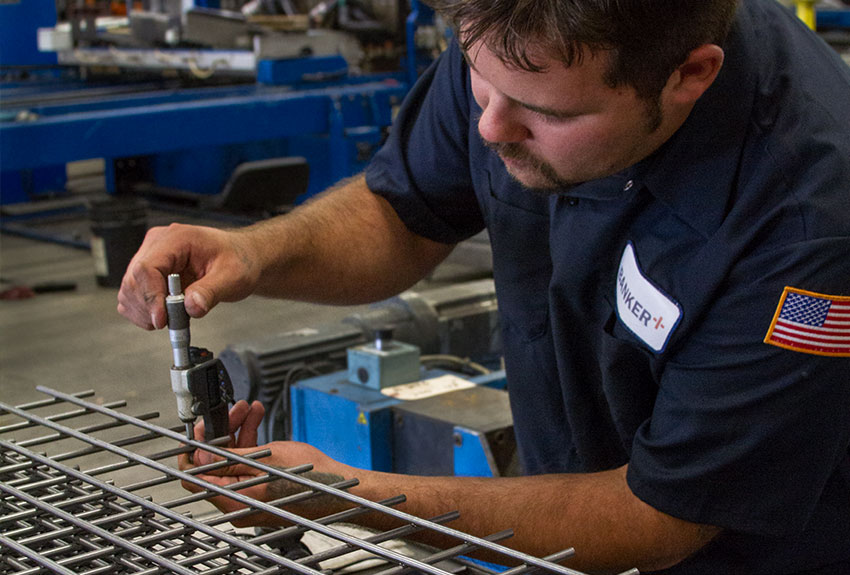 Working with a welded wire mesh manufacturer gives you control over your order. Variety and customization are key when you need just the right material for the job. When specifying your mesh, there are several factors to consider.
Wire Spacing – Welded wire mesh can be manufactured in square or rectangular spaced grids defined by either a clear opening or as a  center to center wire spacing (" Mesh).  The spacing can be set at a consistent interval throughout the wire mesh panel or it can be variable to suit the intended industry and application.
Wire Diameter – Most welded wire mesh specifications are produced using round cross section wire.  If possible, always express diameters as decimals of an inch or in millimeters to avoid  confusion.
Panel Sizes and Edge Conditions –  Welded wire mesh panels can be ordered to a custom size and shape using a width and length dimension that is preferred.  Trimmed or Untrimmed edge conditions are always an option as well.
More than 125 years of experience have taught us that quality is essential. For that reason, Banker Wire manufactures all products with a strict set of internal standards. This guarantees the highest possible quality and consistency in our welded wire mesh. Throughout each production run, we check panels for dimension, squareness, and strength. We confirm that every sheet meets our standards and is exactly the same as the one before it.
However, quality isn't only measured in tests. At Banker, we understand "time is money". That's why we put emphasis on efficiency as well. Over the years we've developed methods of manufacturing that guarantee high performance. Our equipment is regularly improved, and our staff is continuously trained. We make certain our customers always receive the best value without sacrificing the high standards that make us Banker Wire.
Our approach to manufacturing is to bring you, the customer, the highest quality product possible. Therefore, we make efficiency a priority. By investing in our equipment and our staff we make sure you're delivered exceptional wire mesh at an unbeatable value. With our numerous CNC grid welders and jig welders we provide:
Customizable patterns
Small to large production runs
Panels up to 78" wide and 240" long
Openings as small as ½" in rectangular patterns, 1" in square patterns
No maximum opening limit
Wire diameters from 0.105" to 0.375"
Trimmed and untrimmed edge conditions
Our equipment doesn't stop at looms and welders. Banker Wire also offers a variety of fabrication options. Framing, cutting, forming, and additional welding services are also available to our customers.
Materials for Welded Wire Mesh
Banker Wire maintains the largest selection of Raw Materials for our products.  Our selected inventory of wire comes from vendors that always meet our high standards of quality and consistency. To provide our customers with the best product options, we offer a variety of materials for use in both standard and ornamental patterns. Our welded wire mesh is available in:
  Stainless Steels
  Galfan®
  Pre-Galvanized
  Plain Steel
  Weathering Steel
Banker Wire manufactures all products in a bare, mill-finished condition. This process supports our goal to produce superior welded wire mesh efficiently, bringing you the best value possible. Every production run records and uses materials that are inspected and certified before manufacturing. Wire mill certificates of compliance are always available upon request, free of charge.
Raw materials react to their local environment in varying ways. The addition of Secondary Finishes can help materials look and perform at their peak. Banker Wire utilizes trusted outside vendors for secondary finishing. We are happy to facilitate the process to deliver you a ready to install product.
There are several popular forms of secondary finishing available for our welded wire mesh. Hot Dip Galvanizing (galv-after) is an alternative to pre-galvanized wire. In this process, submerging the completed mesh panel into a tank of molten zinc creates a long lasting sacrificial layer across all surfaces. Powder Coating is the process of adhering fluidized powder to the wire mesh. This is a cost-effective way to add color to any project. Decorative Plating adds a thin layer of brass, nickel, chrome, or copper to the mesh, enhanced with bright or antique finishes. We recommend decorative plating for use only in interior applications.
How is Welded Wire Mesh Made?
Are you curious about how we make welded wire mesh? Take a look at our informational video to see the process in action.
To begin, the operator lays out line wires (also called long wires) on a pattern board. This sets the panel's spacing width. Cross wires are then fed into a hopper. Programming is set to drop one at a time onto the line wires. Once in place, the cross wires are resistance welded at each intersection. This sets the panel spacing length. The panel then advances after each weld. This welding process repeats until each sheet finishes. The panel is then removed from the welder, and the next begins. To learn more about our products, visit our basics page below.